"It's storrrrry-telllling time," boomed Gwen Napier.  She beat softly on her jimbay drum as the audience echoed her back in Angora Hall at the Clarkston Community Center.  The audience, a diverse mix of children and adults, had come to hear stories at the Tell Me a Story! Cultural and Literacy Festival on  Saturday, May 17.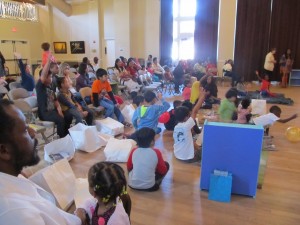 Napier, a storyteller and Vice-President of Kuumba Storytellers of Georgia, shared Mistress of Ceremony duties with fellow Kuumba storyteller, LaVerne Amponsah, and Emmanuel Solomon, a refugee from South Sudan and President of USASSCA (United Sudanese and South Sudanese Communities Association).  Together, they welcomed over 15 storytellers to the stage who shared stories in 8 different languages:  Dinka, Swahili, American Sign Language, Spanish, Somali, Arabic, Nepali, and English.  Many of the storytellers were Clarkston residents who told their stories for the first time.  Others were professional storytellers.  All learned from each other.
The Tell Me a Story! festival drew approximately 250 people who enjoyed activities including stamping, drawing, bookmark making, outdoor games, henna art, and meeting authors.  The storytellers were in the main hall, and there were activities, games and books for the children at tables leading into the Community Center.
The Tell Me a Story! festival promoted childhood literacy among children and families in the Clarkston area. The festival exposed children to the words and ideas contained in stories and activities and aimed to encourage families to read and speak to their children at home.  Children received free books donated by United Way of Greater Atlanta and OurRainbow Press.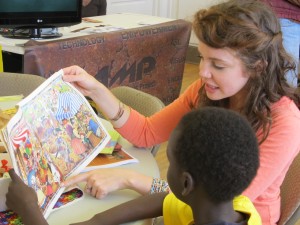 Tell Me a Story! is a project of the Clarkston Early Learning Network.  Project funding came in part from DeKalb Opportunity Zone/United Way of Greater Atlanta and National Brimstone Applied Oral Storytelling Fund.  Stories included those that have not been written down and are being preserved and shared through the Brimstone Storytelling project.
Partners included Refugee Family Services, Clarkston Library, DeKalb County Government, CDF, Friends of Refugees – Mommy & Me, Refugee Family Assistance Project, Clarkston First Baptist Academy, United Way of Greater Atlanta, DeKalb Opportunity Zone, Kuumba Storytellers of Georgia, United Sudan and South Sudan Communities Association, The Atlanta Area School for the Deaf, CPACS, Funding a Dream Foundation, Clarkston Community Center, IRC, International Languages & Cultural Services, OurRainbow Press, Early Learning Scholars, Artful Stories – Michael C. Carlos Museum Emory University, Babies Can't Wait DeKalb, DeKalb Interagency Cooedinating Council, Parent 2 Parent of Georgia.
« MAEA Training in Clarkston Join us for a free screening of The New Entrepreneur »