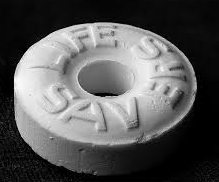 Just before the Thanksgiving holiday, over the course of two weekends CDF hosted "Community from Within," workshops on capacity building for Clarkston, GA residents.  In each of the workshops, participants were asked to consider a Life Savers® mint.  They were then asked to envision and share their thoughts on what else they imagined the Life Savers® candy to be.
"This might look like a Life Savers® mint, but really it's an inner tube for a one inch tall person to float down a river!"
"This might look like a Life Savers® candy, but it's really a door knocker on a gingerbread house!"
The purpose of the exercise was to encourage participants to turn off the tunnel vision of what is and tune into the potential of what could be. Asset Mapping, the principle behind the exercise, is a simple and practical tool to retrain the mind to look for possibilities in unexpected things.  It is also a cornerstone in CDF's approach to capacity building. As Kelsey McNicholas, CDF's Capacity Building Director explains, "Rather than be bummed every time you walk past that old abandoned lot there, can you see all of the potentials in it? There could be festivals, outdoor movie screenings, a community "Learn to Ride Your Bike Day," a new skate park– the possibilities are endless!"
One of the mottos of CDF's capacity building workshops is, "The knowledge is in the room." Those looking to make a positive difference in their communities must first recognize that the information, the power and the wisdom to make those changes resides within themselves. After that, the sky is the limit!
« Lorrie King Presents at Maya Angelou International Women's Health Summit 2015 Start:ME Clarkston Cohort Announced »