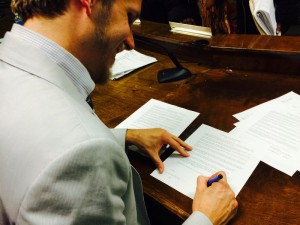 Clarkston Becomes 29th City in Nation to Join Decatur, Georgia based Welcoming America's Welcoming Cities and Counties Initiative 
On March 4th, Mayor Ted Terry and members of the Clarkston City Council passed a Welcoming Resolution, committing the city to building a welcoming and neighborly community in which diverse residents, including immigrants, are welcome, accepted and integrated.
Through the resolution, the City also joins Welcoming Cities and Counties, an initiative of Welcoming America that supports locally-driven efforts to create more welcoming, immigrant-friendly environments that maximize opportunities for economic growth and cultural vitality and position communities as globally competitive, 21st century leaders.  Welcoming America is a nonprofit organization based in Decatur, Georgia that works across the U.S. to create inclusive, immigrant-friendly communities that expand prosperity for all residents.
The resolution (full version available here) recognizes that a welcoming community is critical to economic success for all residents, and identifies that Clarkston is committed to "enhancing its cultural fabric, economic growth, global competitiveness and overall prosperity for all individuals in the current and future generations who choose to make their home in the city."
Said Clarkston Mayor Ted Terry, "I'm gratified that this was a grassroots effort. The residents of our city got together and worked out the details – and our government has responded in full support of Clarkston becoming a truly Welcoming community. In light of recent events, over the criminalization of gays and lesbians, in Uganda our city felt it was important to add language that codified ALL people are welcome in Clarkston, including gay, lesbian and transgendered folks.  It is incumbent upon our government to provide opportunity for all residents of our city. And I am looking forward to working with Welcoming America on a framework for the future welcoming policies of Clarkston."
A newly formed Welcoming Committee will bring together local residents to work with the city to support the vision of the resolution. Said member Cassie Leymarie, "I am thrilled that the Welcoming Resolution has passed in the City of Clarkston.  The resolution, of course, is a symbolic gesture, but it also provides members of the community with a framework for starting grassroots efforts that will help newcomers to Clarkston become more participatory members in the community.  I am looking forward to working with the newly formed Welcoming Committee and Clarkstonians to create programs and events that are guided by the Welcoming resolution."
Clarkston joins the City of Atlanta, where in October 2013, Mayor Kasim Reed joined the Welcoming Cities and Counties Initiative and issued a similar proclamation, recognizing its importance to the region's continued position as a global, 21st century leader.  Said Welcoming America Executive Director, David Lubell, "We applaud the elected leadership and residents of Clarkston for recognizing that the city's global diversity is a significant asset and for making this important commitment to ensuring that all Clarkston residents can truly thrive."
Originally posted at Welcoming America
For more information on the City of Clarkston, visit http://www.clarkstonga.gov
For more information on Welcoming America, visithttp://www.welcomingamerica.org
« Clarkston's First Mural The planning continues and the work begins: Clarkston After School Collaborative »