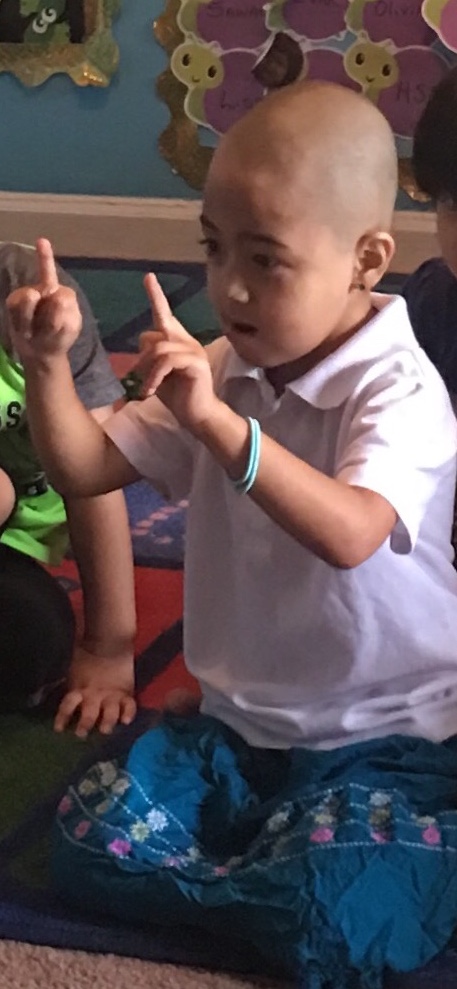 This little girl really enjoys musical activities doing "Circle Time." Here, she is focused on holding up the correct fingers while singing "Where Is Thumbkin?" Role-playing songs such as "Where Is Thumbkin?" help development math skills. Social-emotional development is also important. Her teachers and parents have noticed how she has matured since being enrolled at the Ready School and how she likes being with the other children. She really loves school!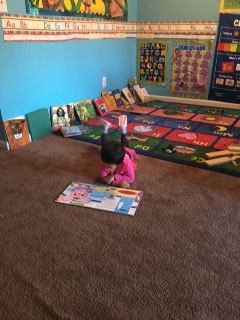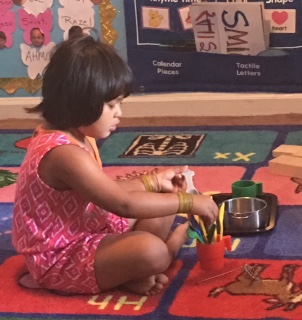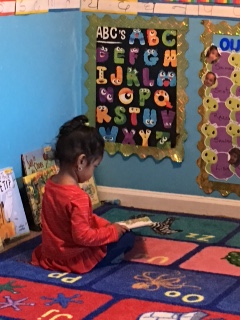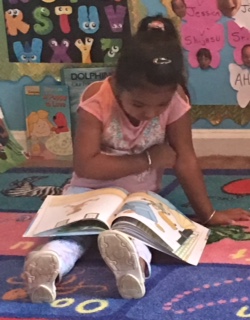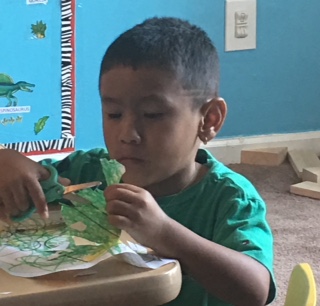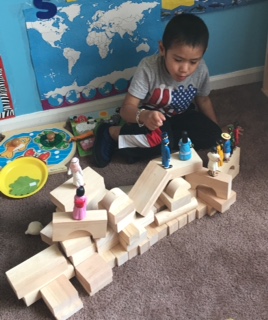 "CHILD -CENTERED APPROACH"
Providing choices for children is the fundamental aspect of high-quality early childhood curriculum (Hendrick, 1996).
The students at the Ready School are allowed to make many choices throughout the day.
A student might decide to sit in a corner or stretched out on the floor and read her favorite book. Others may choose to build a building with blocks, or cook a gourmet meal, or use a scissor to cut out different shapes.
Children feel more committed to an activity they have chosen themselves. Therefore, their attention span will likely be longer if they choose an activity then if they work at a task assigned by the teacher (Fromberg, 1995, Maxim, 1997).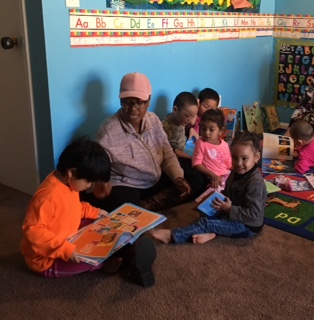 MEETING THE NEEDS OF THE STUDENTS!
Once a week, the students at the Clarkston Town Homes Ready School have a visit from Grace Nyawira Ngobia, a Graduate Student from Emory University. Grace was born in Kenya, Africa, and speaks fluent Swahili. She not only enjoys singing and dancing in Swahili with the students, she is also working one on one with a non-English speaking Burmese student who is soon transitioning to a Pre-K program.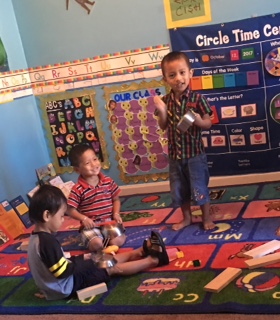 THE CLARKSTON TOWN HOMES
READY SCHOOL INTERNATIONAL STEEL BAND!!!!
These three little boys might not speak the same language (one speaks Burmese and the other two speak Nepali); nevertheless, they have learned to make sweet music together. Using pots, pans and spoons their from their play kitchen, they make melodious rhythms that are very pleasing to their ears.
LOOK AT THE SMILES ON THOSE FACES!!!!
« 2018 New Americans Celebration Clarkston Early Learning Network Monthly Meeting »