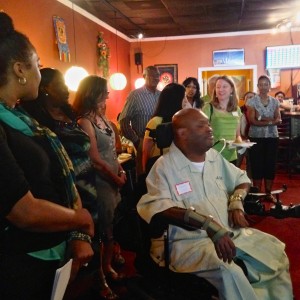 The first ever "Clarkston Connects: After Hours Business Social" took place on May 8 at Kathmandu Kitchen and Grill in Clarkston.  The event was attended by 50 people, including those from the Clarkston Business community, local government officials, the Mayor, and members of local organizations.   The event was a great opportunity for entrepreneurs to meet-up, network and talk business.  The event featured a presentation from Clarkston city Manager Keith Barker, who explained how the $5.7 million streetscape project will change the face of business in Clarkston.  Each attendee introduced themselves to the crowd and shared information about themselves and their business.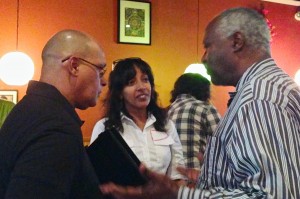 Don't miss the next Clarkston Connects."  Make sure you are on our mailing list.  Plans are underway for the next session of "Clarkston Connects" and more information will follow as soon as it is available.                                          
Thank you to all of the Sponsors who made this event possible.
For all inquiries or to get your name on the mailing list, please contact us.
Written by: Rebecca Liebeskind is the Advocacy Intern at Refugee Family Services. Rebecca is a puzzle enthusiast and loves finding the links that connect seemingly disparate pieces together. Therefore it was only natural that she would enjoy helping to connect people at "Clarkson Connects: After Hours Business Social." Rebecca hopes to be able to find and contribute to other projects, where she can continue to forge links and pursue her passion for active global citizenship.
Photos courtesy of Diane Liebeskind.
« Clarkston Tell Me a Story! Cultural Language and Literacy Festival this Saturday Clarkston Documentary Gets Emmy Nod »