They say that travel broadens the mind.  A recent trip taken by CDF team member Sumaya Karimi was no different.  However, this time, Sumaya was traveling to a place that she knew from 10 years earlier: South Africa.  Her horizons were broadened because of her mission there:  to write a book along with other participants.
In early September, Sumaya joined 40 people from 25 countries to embark upon a week long collaboration.  She joined community engagement people from all over the world to share their experiences and understandings.  The group was convened by Anne Hope and Sally Timmel who wrote the Training for Transformation series used in CDF's Community Transformation course.  The diverse group included economists, personal coaches, and people from many different faith backgrounds.
As part of the week, 10 people received honorary doctorate degrees in acknowledgement of their life-long dedication to community development.  Sumaya noted that "This time it was not the universities giving degrees, but the people whose lives had been affected by the work of the honorees."  She said, "I am glad that I could acknowledge someone who put a seed in my healing after coming from war."
"I could talk about South Africa forever.  I love South Africa."

-Sumaya Karimi
Sumaya shared her experience with the CDF team and commented on the "Importance of being present and being in the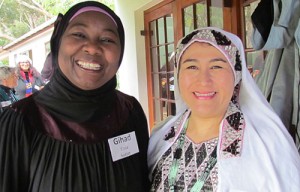 moment." She said, "One more time I was reminded how I can do the things we do in community personally in my life."  Her contribution to the book is a reflection of her work in the USA.  She noted that many people from throughout the world had a specific perspective on the United States.  Through her chapter, titled "Evolving a New Community in the Developed World: It is Not Hollywood", Sumaya hopes to illustrate how communities in the US are usually not what is depicted by Hollywood.
The new book will be published in early 2014.  It includes information and examples of how to assess work from Training for Transformation as well has many case studies ranging from Rebuilding Community, Peace Building after Conflict to Evaluating Dependency.
« Over 50 People Help with Mural Project Clarkston Community Trust Next Steps Report »