Relationships are the heart of everything we do at CDF, and the first early learning community trust session held July 12, 2014, was no exception.  The event attended by 57 families and others concerned about early learning. It provided an opportunity for a lively dialogue in multiple languages around babies, infants, and toddlers — their needs and those of their families.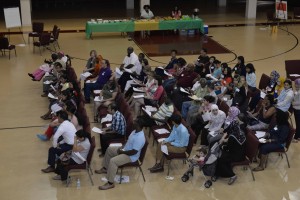 Participants at the July 12 Trust included:   families, public officials, students, representatives from GeorgiaPiedmont Technical College, agency representatives, and concerned citizens.  Because child care was provided, many families with young children were able to attend.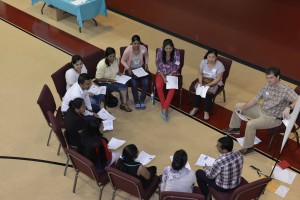 Several families reported that this was the first time someone asked their opinion about what matters to them. Others were very articulate about what they saw as early learning needs for families and for the community. Many spoke of the importance of the early years to learning. They spoke of the importance of children being talked and read to in their home language, as competency in the home language helps build the foundation for learning English — and for connecting children to family members as well as to their culture.
The Clarkston Families Decide Early Learning Community Trust was designed to engage families in choosing an early learning project to be funded through a trust fund. The trust process is funded in part by the W.K. Kellogg Foundation through its early learning and family engagement initiative as well as through private donations to CDF.
At the July 12 Trust event, participants chose their language groups. Each group was led by a facilitator and an interpreter when needed. Languages included English, Arabic, Burmese, and Nepali.
The discussions were lively as the groups discussed issues related to Clarkston's young children, birth through eight, to ensure that they are healthy, nurtured, and prepared for school.
The early learning issues were recorded on flip charts.  At the end of the session participants were given "dots" and asked to put them on the issues that were most important to them.
The prioritized issues are:
Early care and education centers:  Quality early care and education centers serve Clarkston families.  Home language and respect for culture are an integral part of the curriculum, and families are trained and employed as aides and teachers.
Awareness of the importance of language, including home language:  Families, early learning staff, teachers, and others are aware of the importance of a rich language environment, including home language, for all children.
Access to Health:  Health services are available for infants, toddlers, and preschoolers.
Community-based informal early learning programs:  Early learning, literacy and home visiting programs are developed with families and might be located in apartments, homes, churches/mosques, parks, and other community places.
Support for Clarkston's caregivers:  Home-based caregivers and family child care providers are supported by the community and receive coaching, materials, workshops, and opportunities for connecting with each other.
Language, culture, and family engagement were themes that cut across all of the groups, and are two of the criteria used to select the final issue and the project to be funded.
The next session, on August 7, 6:00 p.m., at the Clarkston First Baptist K.D. Moore Family Community Center, will be an opportunity to further discuss these five issues and prioritize one issue through a ranking process. Over the next two months, participants will brainstorm early learning projects that will have an impact on the priority issue, and families will select one project to be funded.
An added benefit to the trust events is the relationships that are formed.  We at CDF are beginning to hear about these connections.  CDF invites you to share the connections you have made.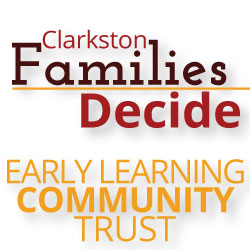 The Community Trust is a participatory, direct democracy model that provides local residents the opportunity to determine for themselves the allocation of funds and resources to address local community priorities. The Trust model borrows from various participatory, direct democracy processes utilized around the world, such as participatory budgeting. The CDF Community Trust, however, is distinct in its application of community development principles, and consensus-based democratic ideals, as well as its consideration of novel approaches to funding, and local trust sustainability.
« July 12, 2014 EARLY LEARNING COMMUNITY TRUST NOTES CDF Early Learning Community Trust (2014-2015) »