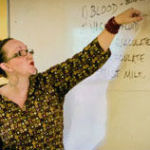 CDF Community Health Director Lorrie King, MPH delivered two presentations at the Maya Angelou International Women's Health Summit in Winston-Salem, NC. The Maya Angelou International Women's Health Summit is a multinational collaboration dedicated to highlighting and improving the health of women around the world. National and international participants convened for two days of dialogue, planning and networking around topics such as infant mortality, cross-cultural differences in women's health, women and The Affordable Care Act, global obesity and the impact of war and conflict on women's health.
On Thursday, November 20, 2014, the presentation topic was Reducing Absenteeism and Raising School Completion Rates through Comprehensive Menstrual Hygiene Management in Kathmandu, Nepal which highlights the effects of menstrual customs and taboos on absenteeism and retention rates among girl students. Using a case study of a school in Nepal as the framework, Lorrie presented the background, development and implementation of menstrual hygiene management programs which have reduced absenteeism and increased graduation rates among girls particularly in similar developing countries.
On Friday, November 21, 2014 Lorrie discussed, "Maternal Health in the Atlanta Refugee Population: A Framework for Understanding" providing insight into the maternal health issues being introduced into the Atlanta metro area by the increase in the refugee population.  Through a discussion of culture, traditions, history and country of origin, participants gained valuable insight into how to effectively treat members of Atlanta's growing refugee communities. Lorrie also discussed the importance of culturally relevant and informed care, highlighting pro-active measures medical personnel can take to provide better care and reduce emergency situations in the refugee population.
« Update on the Clarkston After School Collaborative Capacity Building at CDF: A Lesson in Life Savers »