"I am so excited there is going to be public art in Clarkston," one resident commented as he and his 6 year old daughter painted browns and deep reds.  He was joined in his excitement by over 50 other community members on September 28, 2013, to paint the first community mural in Clarkston.
 "Kids want to do things like this that give them ownership over their community. That's what I love about this project.  These kids are going to go by this mural for years and say 'I participated in a mural. '"

– Shannon Willow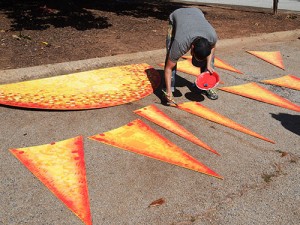 The mural is a project of the private citizen group, the Clarkston Green Team.  Shannon Willow, a local artist and member of the Green Team, started the project as a way to engage youth not only in their local community but as a way to talk about local food and sustainability.  Willow took inspirations from local youth to create the final mural design.  Through CDF's Community Transformation 101 course, Mike Carpenter, another local artist, was connected and became a vital part of the painting team.
"Public Art has been proven to reduce crime rates, raise property values and build pride in a community," said Ted Terry, Clarkston Resident and author of the Green Team grant project. "We are so thankful for Decatur Pediatric Group's willingness to work with the Clarkston Community to make this dream of so many of our citizens come true."
The Green Team worked with local organization's like CDF, International Rescue Committee, and the Clarkston Community Center to bring the project to life.  Green Team member, Ted Terry worked to identify a location for the mural and settled on the west facing wall of the Decatur Pediatric Group.  With all of this collaboration at play, the mural project received an Opportunity Zone grant from United Way of Greater Atlanta.
The sunny September day was filled with murmurs of more public art.  We can't think of a better way to have fun and meet neighbors!
« Clarkston's First Community Mural Project to be installed Saturday Community Engagement Doesn't Look like Hollywood »