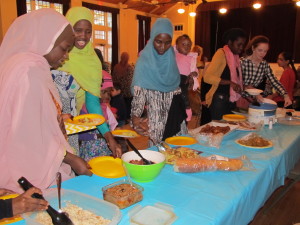 Home made cooking  from Iraq, Sudan, and Clarkston was the highlight of the 2nd Cultural Pot Luck, Sunday,October 18, 2015. The potluck was held at the Clarkston Community Center.  Over 40 adults and children of all ages sampled falafel, rice dishes, chicken wings, bean soup, and an array of cakes and other Iraqi desserts made "from scratch" by Manal Abbas. Candler School of Theology graduate student Janelle Adams was thrilled to learn about the progress that many of the women were making in their Child Development Associate class — she was away for the summer and enjoyed reconnecting at the dinner. New babies, new jobs and children's first year in Head Start were all celebrated.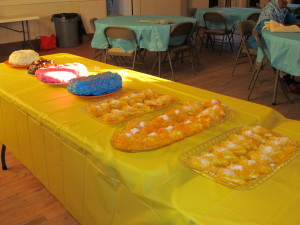 Four of the five candidates for the Clarkston City Council joined the event and said a few words about their candidacy.  Everyone who is eligible to vote in the
November 3
election was encouraged to do so. Issues related to education in Clarkston were discussed at the individual tables and will be shared with the Clarkston Education Task Force. Several of the attendees signed up for the upcoming Early Learning Community Trust. All kinds of connections were made!
The event was planned by graduates of CDF Action's I am a Leader workshop, a program of Clarkston Families Decide, funded by the W. K. Kellogg Foundation. The purpose was to practice English and enjoy a social "night out." By all accounts, everybody had a good time. One mom said "my children will sleep well tonight!"  She and others are looking forward to the next cultural pot luck. And so is CDF!
« We're Hitting the Re-Start Button! October Education Assemblies at Refugee Family Literacy »