Will you consider supporting CDF and the I am a Leader program through this GoFundMe campaign? We hope you will! Please read below about how the women of Clarkston are working together to improve the lives of their families and their communities.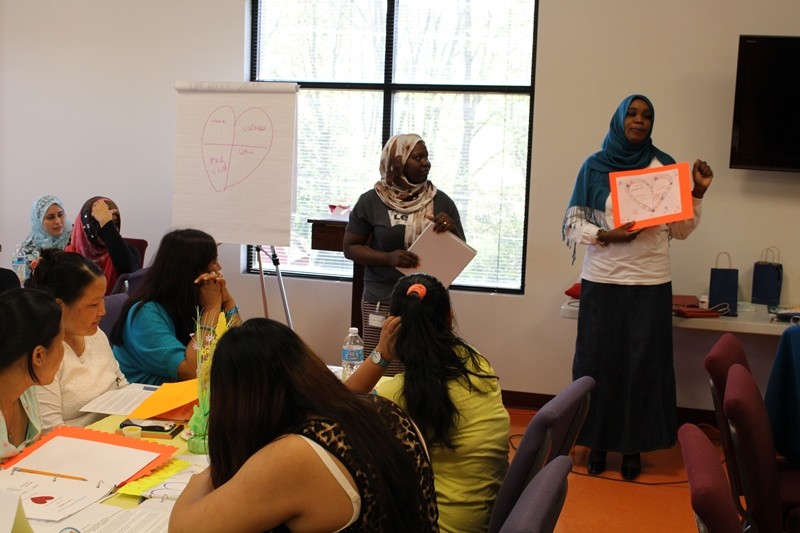 Thirty women in Clarkston, GA, most of us former refugees, are beginning an "I am a Leader" training program. Most of us already kept our families together through escape from danger in our homelands, several years in refugee camps, resettling in the US, and are now wanting to build further upon our skills and strengthen our voices so that we can make even more difference for ourselves, our children, our schools and our community.
The "I am a Leader" program is bringing us together to learn to work more effectively with women of other nationalities. We have Somali, Iraqi, Bhutanese, Sudanese and American women who have agreed to work together to learn even more about leading our families and impacting our communities. We are going to share our cultures with each other, learn from each other, share our stories and share our dreams. We are learning to trust new people, in a new land, and learning how to work together as strong women. At the end of the training we will form small groups and cooperate on projects to help the community .
Most of us are mothers, with young children, and plan to become more involved with our children's schools. Some hope to develop art projects to highlight the cultures of our homelands. We will work closely with our children's teachers so our children are learning more both at home and at school. We want to improve our schools!
A couple of us are leading conversations with our neighbors in our apartment complexes to improve our living conditions. We want to make the play areas and community rooms more attractive for more people to use.
Earlier groups of women in this program started an effort, and succeeded, in refurbishing a teacher's lounge at a local elementary school. Another group brought together a large project and created a school mural describing the hopes and dreams of young people and their families. Words such as "learning", "trust", "joy", and "do your best", in several different languages, formed the trunk of a large, and strong, tree.
One previous group created a multicultural "welcoming" committee at a local child care center, ensuring that all ethnic groups felt welcomed at the center. This even led to additional ethnic staff being hired!
We are planning on each project costing about $500 – $600, and there will be 7 – 10 groups of us working together. We need about $5,000 to complete all the projects. Our group projects will begin in August. Please help us work together and learn to become even stronger leaders!
Clarkston Development Foundation – CDF Action, is working with us on this project. CDF Action works to connect and engage the diverse residents of Clarkston by helping residents recognize and develop their assets and assist them in creating activities and services that benefit the community. All donations given through CDF Action, a registered 501(c)(3) charity, are tax deductible.
« Institute for Educational Leadership Conference Great Write Up on Montessori Workshop »