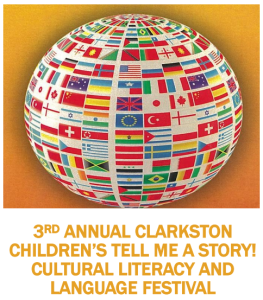 The Third Annual
Tell Me a Story! Festival
is around the corner. Early learners and adults alike are invited to join in this special event which focuses on literacy and home language learning.
The festival schedule is chock-full of storytellers, children's authors, puppet shows and even an appearance by The Cat in the Hat. Literacy and language activities will provide fun for the whole family. Look forward to free books, ice cones, art projects, chalk talk, healthy snacks, hula hoops and more!
Logistics:
What: Tell Me a Story! Festival
Where: Clarkston Community Center
When: Saturday, May 9, from 2:00-5:00 p.m.
What else: If you would like to volunteer for the event, contact Roberta Malavenda at roberta@cdfaction.org.
Many Thanks!
The funding for this event is provided in part by the Clarkston Early Learning Network (CELN) which is facilitated by CDF: A Collective Action Initiative.
Thanks to our partners!
Read more…
National Brimstone Applied Oral Storytelling Fund
Refugee Family Services
Clarkston Library
Dekalb County Government
Friends of Refugees
Mommy & Me
Refugee Family Assistance Project
Clarkston First Baptist Academy
United Way of Greater Atlanta
Dekalb Opportunity Zone
Kuumba Storytellers of Georgia
United Susan and South Sudan Communities Association
The Atlanta Area School for the Deaf
CPACS
Funding a Dream Foundation
Clarkston Community Center
IRC
International Languages & Cultural Services
OurRainbow Press
Early Learning Scholars
Artful Stories
Michael C. Carlos Museum
Emory University
Babies Can't Wait Dekalb
Dekalb Interagency Coordinating Council
Parent 2 Parent of Georgia
« 2015 Start:ME Clarkston Cohort Announced Best Wishes to Sumaya »