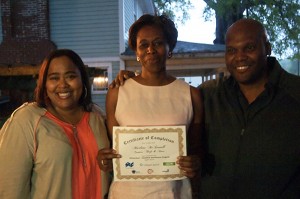 The room was filled with excited and familial voices on April 18th.  Entrepreneurs, mentors, instructors and friends gathered to celebrate the final night of the VilCap Start Clarkston Business Accelerator Program.  It was difficult to tell who was who as everyone mingled and talked like longtime friends, illustrating the backbone of the program: creating connections.
A program like this is about connecting people. It's about connecting promising entrepreneurs to one another, to mentors, to capital. It's all about connections," said Peter Roberts, Program Director
.
Roberts noted that the program brings in outside resources and experts who have a genuine interest in helping Clarkston-based entrepreneurs establish thriving businesses. He thanked mentors, partner organizations, and key program managers for their work. Roberts also acknowledged the key role of donors in supporting and believing in the program.
Twelve out of fifteen participants completed the program.  Each entrepreneur was recognized and gave a few words of thanks and commentary on the 14-week program.
"I can say thank you, but that is not enough," said Salim Hamid of Sudatina Well Care.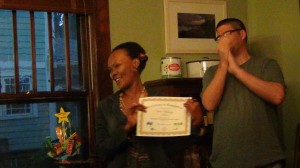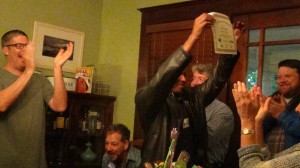 "This class pushed me to do something I would have never done," said Sushma Barakoti of Sunavworld.
Three entrepreneurs were selected by their fellow participants to receive low-interest loans:
Marlene McDowell: Connie's Thrift and More
Gregory Christie: Gas-Art
Virginia Bray: 1 Amazing Event
This has truly been a dream. This was my mother's dream before it became my dream. And I thank each and every one of you for supporting our dream." – Marlene McDowell
Congratulations to the 2014 cohort!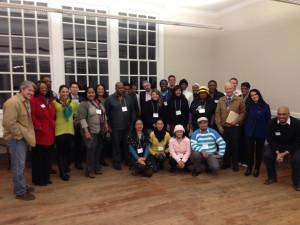 2014 VilCap Start Clarkston Entreprenuers
Doris Mukangu:  Johari
Eden Fesshazion: Eden Fesshazion LLC Attorney at Law
Lauren Mitchell: All Cultures Work
Marlene McDowell: Connie's Thrift & More
Michele & Don Norwood: MoosePaws Dog Soap
Paige Hills Lievano: p creates
Gregory Christie: Gas-Art
Salim Hamid: Sudatina Well Care
Sheena Williams:  SheWill, Inc.
Sushma Barakoti: Sunavworld, LLC.
Virginia Bray: 1 Amazing Event, LLC
« Development Director Opportunity Clarkston Community Festival has Successful First Year »