Clarkston, Georgia, an area located near metropolitan Atlanta, stands as a singular example of the changing face of mainstream America in the 21st century. A spirit of resilience, diversity, and entrepreneurial ingenuity is evident here, both in longtime Clarkston residents and its population of refugees and immigrants from around the world.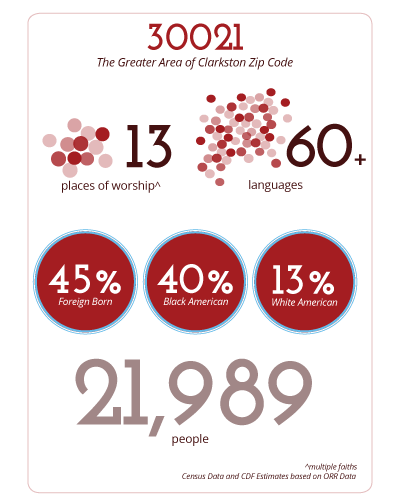 The Clarkston zip code of 30021 has a population close to 22,000 and includes the City of Clarkston and surrounding areas of unincorporated DeKalb County.   More than a third of Clarkston's population is foreign-born and more than half of its population is African American, while white U.S. Americans constitute a significant minority at 13.6%. Clarkston has been called the most diverse square mile in the United States, and is the figurehead of a new, multicultural American South. The city is home to significant Burmese, Bhutanese, Nepali, Somali, Iraqi, Sudanese as well as other populations, and many languages are spoken by the diverse and worldly population here.
The early history of Clarkston, as recounted on the history page of the City's website, owes a great debt to the Georgia Railroad, which ran through the center of town. According to the City website , Clarkston was originally called "New Siding," but it was affectionately known by some as "Goatsville," because of the prestige given to anyone who owned goats, particularly the high-quality Angoras variety. Often, residents' goats had to be run out of a building before people could conduct their business there. To this day, Clarkston High School student sports teams are appropriately named after their mascot, the Angora Goats.
The Clarkston area was identified in the 1990s by refugee resettlement agencies as a recommended location for refugee resettlement. Many who resettle here have fled unspeakable episodes of violence, trauma, and war, while others have been displaced from their homes by natural disasters. Though immigrant and refugees in Clarkston face uniquely difficult circumstances, many of these new Americans in Clarkston are highly educated and bring unique skills and capacities. Every community member, provided the right support, can play an invaluable role in their new home.
This is not to understate the difficulties faced by the Clarkston community. The average per capita  income in Clarkston is $16,128, which is about $10,000 less than the Georgia and national averages, and the median household income is $31,741, which is almost $20,000 less than the median Georgia and national household incomes, according to American Community Survey data listed at USA.com.  Cultural norms and limited access to basic services due to lack of transportation, communication barriers, and the continued need for child care make life for the resettled exceedingly difficult.
The chance to resettle in America is, for many, a light of hope and a chance to create a new and happy life and future for their children. It is an ideal location for community development work, where building connections and developing assets can help people overcome disadvantage and work together to build a bright future for themselves, their children, and the community.