March 6th 2014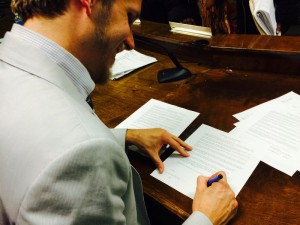 Clarkston Becomes 29th City in Nation to Join Decatur, Georgia based Welcoming America's Welcoming Cities and Counties Initiative  (more…)
February 27th 2014
On February 9, 2014, thirty-eight (38) community residents (including three (3) resident Community Trust Trustees), six (6) other Community Trust Trustees, and nineteen (19) volunteers, gathered at the Clarkston Community Center to continue the process of determining an Education project to fund from the Clarkston Community Trust.  (more…)
February 15th 2014
Mother Language Day, sponsored by the United Nations, recognizes the critical role of languages in sustaining the growth and development of a global society.
Each family has their own unique story and knowledge bank which when shared in the mother/home language with their children has a lifelong impact and creates amazing familiar bonds. (more…)
February 15th 2014
Please join us at the Clarkston Community Center on February 26 from 6:15-8:30pm for a series of focus group sessions designed to help the 15 entrepreneurs in the VilCap:Start-Clarkston program refine their product and service offerings.  (more…)
February 10th 2014

Last June, when CDF announced the creation of the Clarkston Community Trust, CDF did so by asking a few "what if" questions.  What if residents had the opportunity to determine for themselves the use of financial resources for the betterment of the entire community?  What if a fund existed that was devoted solely to community transformation – an exclusively local fund?  What if…?
Now, nine months, over 200 attendees (more…)
February 9th 2014
Twenty-five parents speaking 4 languages were active participants in the second session of Vision and Voice: A Family Leadership Institute, held February 8 at the KD Moore Family Development Center in Clarkston.   While the parents  enjoyed a scavenger hunt as well as listening, visioning and goal setting exercises, their children enjoyed (more…)
February 7th 2014
Most of my adult life has been spent trying to grow understanding between people of different backgrounds.  From nationality, to race, to class, to gender, I've always encouraged people to step at least an inch outside of their comfort zone.  However, when it comes to language, I tend to get squeamish. (more…)
February 6th 2014
"My tomorrow is my decision," said Stacey Abrams, House Minority Leader for the Georgia General Assembly and State Representative for the 89th District, as she spoke of the great decision that refugees make when they come to the United States. (more…)
January 22nd 2014
Rubbing his belly to make a point, Ibrahim, a Clarkston middle school student, retold a story his grandmother told him.  He told the story with great ease and some humor, all in Arabic, to a receptive audience of parents, youth, and storytellers. (more…)
All people can participate in recreating their communities.
What We Do
CDF works to mobilize community for collective action.

Resources
Grab a book, check out some resources or see examples of our work.

Who We Are

OUR MISSION
CDF convenes conversations within the Clarkston community to help residents articulate their visions for the future and develop action plans to achieve those visions. CDF believes a community  shaped by its residents is stronger and more viable than one shaped by outside forces.
OUR VISION
Clarkston, Georgia, will be a thriving, vibrant, and diverse community where all residents' voices are heard and where all residents work together to realize their collective future.
WHO WE ARE
CDF works to connect and engage the community by helping residents to recognize and develop the assets that every person has. By supporting work of community members, we work to build a community whose residents drive and direct the development of activities and services that benefit the community.
Relationships are the heart of everything we do
Get Involved
Share your thoughts, your talents, and your experiences!

GET CONNECTED

Meet new people, experience
Clarkston, get updates


EVENTS

Share gifts, talents, skills and experiences at CDF events


DONATE

Ensure our work of supporting the gifts and resources in Clarkston


Shop via Goodshop to support CDF
Improve collaboration
Ensure independence
Increase resilience
Build social capital
Contact Us
We would love to hear your thoughts and your questions.