Community Engagement
CDF's community development methodology is taken from CDF Board Member Doris Littrell's book Practicing Community Development. Communities support what they help to create. Residents often have perspective on the challenges faced by their community and research shows that when residents have ownership over the decisions in their community, they are more likely to sustain it when outside resources are no longer available.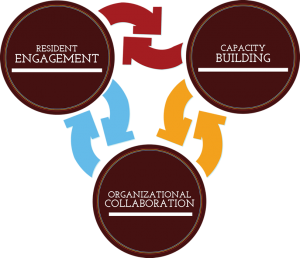 Our Focus Area: Education
In August 2013, CDF created a first-of-its-kind Clarkston Community Trust fund to activate community decision-making. Community residents went through a process to prioritize community areas of focus. The community ranked the four themes below as their highest priorities. However, there was one area that stood out among the rest. It was Education that ranked as the highest priority and so that is the area that CDF Action continues to be committed to.
As we work on projects in the area of education, we work with and among local organizations to encourage sharing of resources and reducing duplication of efforts.  We also know the value of continued learning.
Relationship Building Leads Our Work
Relationships are at the heart of everything we do.  Our work follows a process of relationship-building that creates trust and supports vibrant community life in Clarkston.  Residents connect with each other, collaborate with other community members and organizations, then transform the community through resident-driven projects.
Strong relationships are the foundation of vibrant communities
Trust is essential to strong relationships
Shared experiences build trust
Large group settings and small group gatherings create opportunities for shared experience
Successful gatherings provide opportunity for individuals to share their gifts, talents, skills and experiences
Current Work and Major Programs
Clarkston Families Decide Clarkston Families Decide is a three-year early learning and family engagement initiative funded by the W. K. Kellogg Foundation, one of 30 grants awarded in the country. Clarkston Families Decide engages Clarkston families who have children birth to eight as advocates for their children and as leaders in the community.
Clarkston Families Decide has three components: (1) Early Learning Community Trust (ELCT) – a participatory decision-making process where families designate funds from the trust to an early learning project of their choice. In the past two years, the ELCT has engaged more than 200 families who speak 8 languages, resulting in a project aimed to increase the number of multi-lingual early learning teachers in Clarkston.  (2) I am a Leader – this interactive family leadership workshop, based on the national Family Leadership Institute, Vision and Voice, provides opportunities for 30 participants each year to engage in visioning, enhance communication skills, and work in language teams to plan community projects. (3) Countdown to Kindergarten –promotes the importance of early literacy, especially use of the home language, as well as policies and programs that support effective school transition.  The signature project is the annual Tell Me a Story! Cultural and Literacy Festival, now in its fourth year.
The READY School   The idea for the READY School, an early learning and family engagement program, located in an apartment complex, was developed by families who attended the Early Learning Community Trust, 2014. It is a free, multi-lingual half-day program for 3- and 4-year-old children before they enter Georgia's Pre-K or Head Start. Staff speak Arabic, Somali, and English. CDF partners with Scottdale Early Learning, United Way of Greater Atlanta, Early Learning Property Management, R James Property Management, and families to implement the program. As of October 1, 2015, in just six months, the READY School served 30 children and their families who are from Iraq and Somalia, and successfully transitioned 15 children to Head Start or Pre-K.
The Clarkston Afterschool Collaborative (CASC) The Afterschool Collaborative was selected as the 2013 Community Trust project. The Collaborative provides a forum for out-of-school-time programs to work together to (a) increase opportunities for youth to develop their skills and expand their horizons and (b) improve academic performance and graduation rates. The Collaborative has provided grants to  programs to use existing computer banks for after school students, hosted community workshops and staff professional development opportunities, launched a new website (www.clarkstonafterschool.com) which includes a directory of afterschool and summer programs serving Clarkston children and youth, and selected 14 programs to receive mini-grants to enhance or expand current out-of-school-time programs.
CDF's three-year strategic directions include: (a) sustaining and expanding Clarkston Families Decide and replicating the READY School through working with communities; (b) exploring innovative early learning and Kindergarten through12th grade policies, programs, and funding; and (c) providing consultation on the CDF approach by compiling and analyzing data, sharing lessons learned, and producing materials (e.g. tool kits, workshops, papers) for replication.
We invite you to join us in our work to transform education so that all Clarkston children and youth will be nurtured, supported, and prepared to learn.