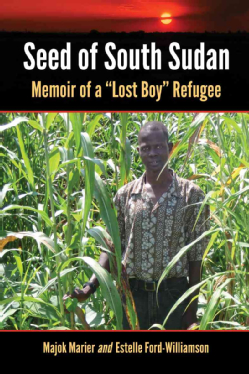 A long and dangerous journey from a village in South Sudan brought Majok Marier to Clarkston.  Saturday, June l4, Majok Marier, one of the lost boys from Sudan, shared this journey with community members at the Clarkston library.  Majok was joined in the presentation by Estelle Ford-Williamson, co-author of their recently released book Seed of South Sudan – Memoir of a "Lost Boy" Refugee.
The co-authors taught us much about Sudan and the birth of the new nation of South Sudan in 2011. Majok, now a father and a plumber's apprentice, described leaving home at age 7 because of the war, his thousand mile trip to a refugee camp in Ethiopia, the flight from Ethiopia, life in refugee camps, and his eventual move to United States in 2001.  The chapter title "Where was the world when we walked?", hints at the horrors and hardships that he and others faced.  However, Majok spoke of the people who helped him along the way.  He told stories about his village and his family as well as stories of other lost boys who have succeeded in this country.
Seed of South Sudan, Memoir of a "Lost Boy' Refugee, is a book of hope.  Majok shared the many ways the lost boys, many now with families of their own, are supporting their families in South Sudan and raising funds to build schools, clinics, and wells in their villages.
A portion of the proceeds of the sale of the book will be used to build wells in Majok's village.
From the  Introduction by Majok:  " This book details my life, but also the lives of other Lost Boys in order to update this story for the many who  became interested when we first arrived in America.  It shows the importance of tribal culture in helping us survive.  It shows how we have become good Americans, but with a strong passion for those at home and a determination to build a new South Sudan through the knowledge and skills we are gaining here." (p 3)
« Clarkston Connects 2014 Dates Identifying Themes – Setting Goals – Moving to Action »