Start Micro-Entrepreneur Accelerator Program, also known as Start:ME, is an intensive 14-week accelerator program that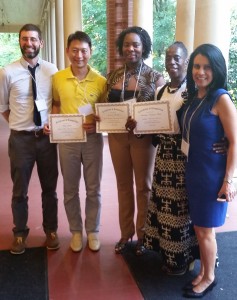 provides the
mostpromising micro-entrepreneurs in marginalized metro Atlanta communities with business training, mentorship support and early-stage financing needed to develop their businesses.
At the Start:ME Showcase on May 7, the 15 Clarkston entrepreneurs hosted booths to display their business plans. As the culmination of the 14-week intensive program, three micro-entrepreneurs were selected by their peers as the most promising in the cohort to receive program loan funds.
The loan recipients in the Clarkston cohort were the following three entrepreneurs:
Gary Chang, Simple 'n' Pure Natural Products
Maralene Ferguson Bates, Sankofa Education Services
Latoria Rachal, Up and Running Accounting Services, LLC
The success of the Start:ME program in Clarkston over the past three years has led to the program widening to East Lake through partnership with East Lake Neighborhood Community Association and the East Lake Foundation. Start:ME plans to replicate the program in six other metro Atlanta communities over the next three years.
Many thanks to the partners who make this program possible: Social Enterprise @ Goizueta, Access to Capital for Entrepreneurs (ACE), Refugees Women's Network, Georgia United Credit Union, and the Clarkston Community Center.
« Clarkston Community Health Fair We're Hitting the Re-Start Button! »